CHURCH OF SCIENTOLOGY
OF MIAMI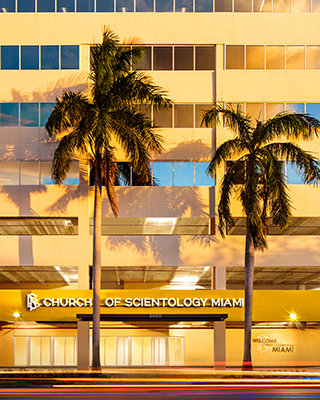 It is with great pride we welcome you to our Church.
Since 1957, we have served a growing congregation. Today, we are honored to extend our help to communities across Miami-Dade from our new home in North Coconut Grove.
Our Church realizes Scientology Founder L. Ron Hubbard's vision that all Churches of Scientology become what he termed Ideal Organizations (Orgs). Ideal Orgs not only provide the ideal facilities to service Scientologists on their ascent to higher states of spiritual freedom, but they also serve as a home for the entire community and a meeting ground of cooperative effort to uplift people of all denominations.
To that end, we share our Church and our many social betterment and humanitarian programs with this region.
We look forward to working with every group and individual dedicated to improving our society for the generations to come.
Together, we can achieve our common dream of a drug-free, crime-free and flourishing future for all.
GRAND OPENING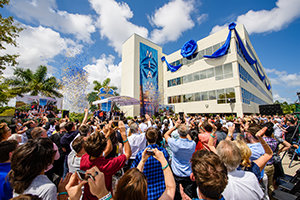 Miami is as much a state of mind as it is a location. The city is, for example, about 230 miles from Havana, Cuba. But today's Miami is as intricately fused with the Cuban capital as the two sides of a coin. Miami is Latin, it's Haitian, it's Southern, it's Yankee, it's hot and sweaty and it's infinitely cool. Florida's top balladeer, Jimmy Buffett, sang about Miami: "We got a style, we got a look, we got that old panache."
There's a new sparkle to the panache. On US Highway 1, nestled amid the storied bohemian ambiance of Coconut Grove and the international gold-collared town of Coral Gables, 2,000 Scientologists and guests gathered, Saturday, April 29, 2017, atop a prominent structure to celebrate the opening of a Church of Scientology.